NEW YORK (AP) — Kevin Durant returned from a 23-game absence to spark Brooklyn's most explosive half of the season, finishing with 17 points and perfect shooting in the Nets' 139-111 rout of the New Orleans Pelicans on Wednesday night.
Durant came off the bench with about 7 1/2 minutes left in the second quarter and by the time the period ended the Nets had 79 points and a 20-point halftime lead. Brooklyn was a sizzling 14 for 18 (78%) in its 43-point quarter.
Durant went 5 for 5 and added seven rebounds and five assists in 19 minutes in his return from a strained left hamstring. He was originally listed in the starting lineup, but was removed in a revised lineup distributed minutes before his first game since Feb. 13.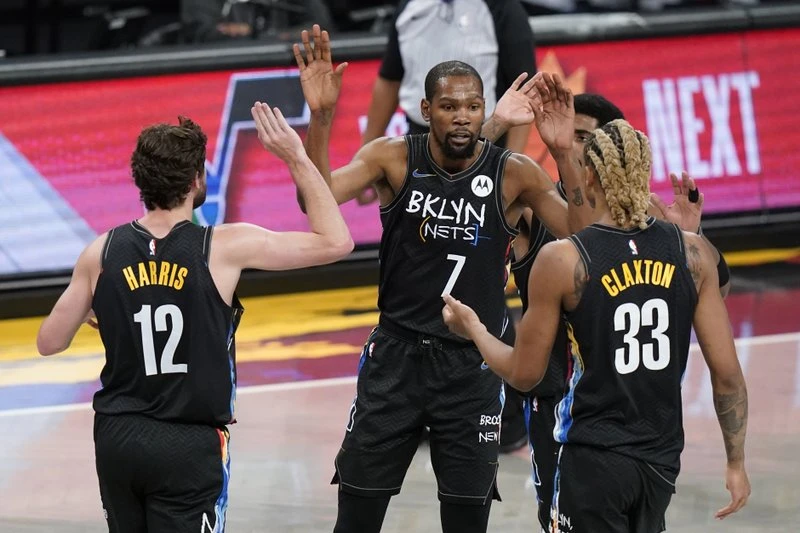 The All-Star forward got an ovation from the first home crowd he'd played in front of with the Nets. Barclays Center only began allowing limited crowds on Feb. 23.
Kyrie Irving scored 24 points and LaMarcus Aldridge had 22 in the Nets' ninth straight home win.
Eric Bledsoe scored 26 points for the Pelicans before being ejected in the third quarter.
Zion Williamson had just 16 on 4-for-12 shooting, ending his streak of 25 straight games with 20 points and 50% shooting. That tied Shaquille O'Neal for the longest such streak since 1954-55, when the shot clock debuted.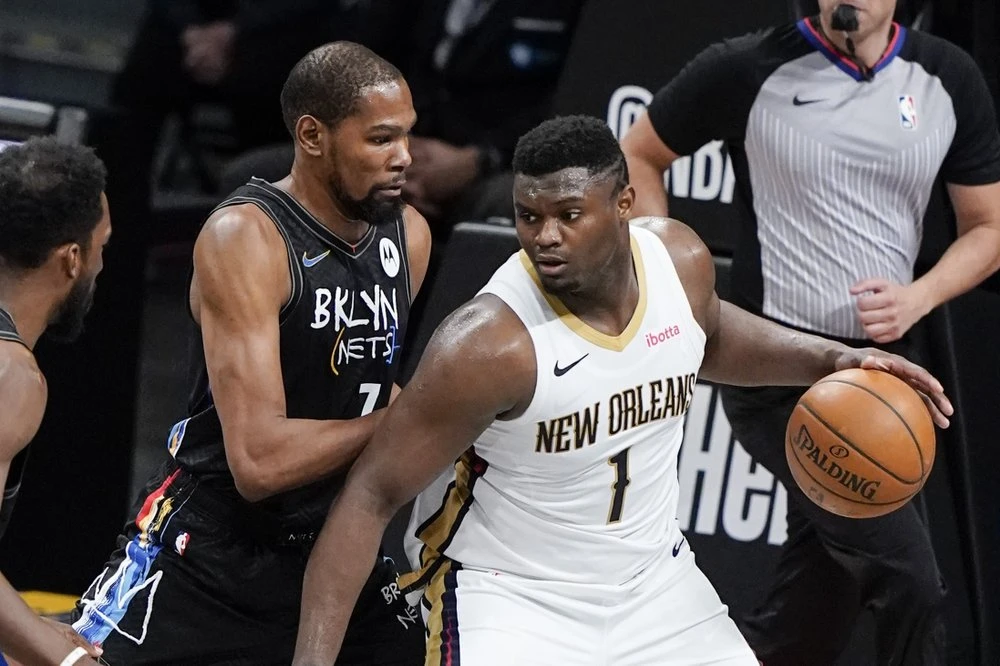 A night after surrendering 46 points in the third quarter of a loss to Atlanta, the Pelicans' defenseless period came sooner.
Brooklyn led 36-33 after Blake Griffin's long 3-pointer at the buzzer to end the first quarter. The lead had grown to 53-44 by the time Durant checked in and the rout was soon on.
The Nets shot 55% and made 19 3-pointers. They did it all without James Harden, who will miss at least 10 days with his own hamstring injury. He sat on the bench wearing shorts.
Brooklyn scored 36 more in the third, bringing a 115-82 lead to the fourth while Durant went back to the bench.