CHICAGO — It's only one of 82 games in a long and grinding 2021-21 NBA regular season schedule.
But the Bulls got off to a good start on Thursday by beating the Pistons, 94-88, at the Little Caesar's Arena in downtown Detroit.
Zach LaVine led the assault with 34 points on 11-of-17 from the field. He also grabbed seven rebounds and doled out four assists.
It was a performance that swept Bulls coach Billy Donovan off his feet.
"The shots that he made and the things that e does athletically and talent-wise, I think people have seen for years out of him. He's always kind of had that. I think he's looking at things through a different lens. His voice is there, there's different messaging coming from him in a really, really good way. He sees things in a different way now based on his (All-Star and Olympic) experience," Donovan told The Chicago Sun-Times.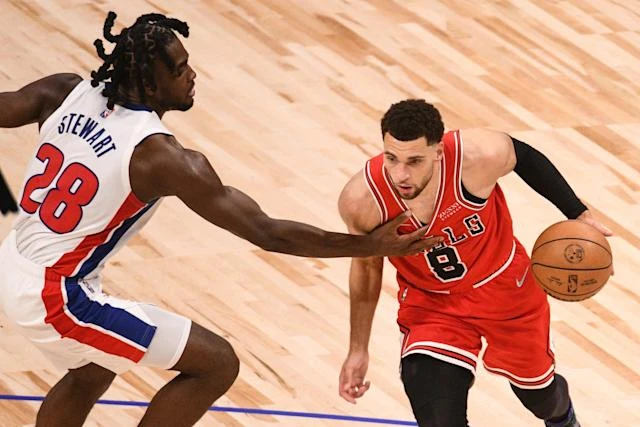 Unlike previous campaigns where LaVine waged battle like a lone ranger and a one-man army, he got plenty of help this time around.
Nikola Vucevic had 15 points and 15 rebounds while former San Antonio Spur DeMar DeRozan added 17 markers. Lonzo Ball, who was acquired from the New Orleans Pelicans this past off-season, chipped in 12 points and six assists while running the Bulls' run-and-gun offense.
Despite shooting just 40 percent from the field (36 of 90) and 21.4 percent from 3 (6-of-28), the Pistons hung with the Bulls and trailed only by 2 — 88-86 —in the final 49.5 seconds.
But the Bulls proved much steadier in the endgame.
Jerami Grant paced the Pistons with 24 points while former Villanova star Saddiq Bey had 14.