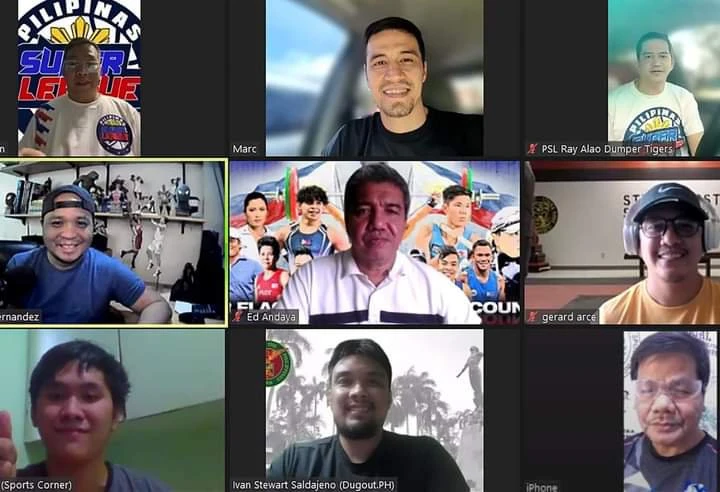 THE Pilipinas Super League, the newest and hottest play-for-pay league in the country, hopes to make a big difference starting with the opening of its first conference next month.
PSL President Rocky Chan, Vice President Rey Alao and Commissioner Marc Pingris vowed to put in the extra work necessary to ensure the success of the 12-team regional league which kicks off March 18.
:Although new, the PSL wants to do it right by following the tried and tested formula for success and instituting the reforms needed to maintain the integrity of the game," said Chan during the fifth "Sports on Air Weekly" last Feb. 11.
Chan said the PSL — from team owners to game officials and players — have agreed to work together to replicate the success of the PBA and other professional leagues and avoid the shortcomings of the other commercial leagues that followed them.
"We're really focused to make this (PSL) work. Nakita nyo naman kung paano natin itinaguyod at inayos at pinaganda yun nakaraang liga natin, but still may mga untoward incidents na nangyari pa din. But it's an eye-opener for everyone," said Chan.
"We don't want the same thing to happen dito sa PSL. Gaya nga ng sabi ni Commissioner Marc, mas mahigpit from the team owners down to the players, lalo na sa dun sa mga naka red flag. Kinakausap na agad namin. Ayaw na ayaw natin yun binibigyan na sila ng oportunidad na magkaroon ng trabaho, tapos bababuyin pa ang liga."
Chan said he has the full support of the PSL team owners to ensure the integrity of the league.
"Currently, we have 11 teams already. We're just waiting for one more team to complete the list. Madami pang gustong sumali, but we want to limit it to only 12 teams for more exposure."
The teams are Basilan-BRT of Mayor Julz Hataman, Zamboanga del Sur of Cong. and Gov. Yu, Pagadian of Mayor Sammy Co, Roxas, Zamboanga del Norte of Mayor Vallecer, Kapatagan, Lanao del Norte of Engr. Orlanes, Lapu-Lapu Heroes of Cebu, Cagayan de Oro of Cong. Klarex Uy, Davao Occidental Tigers of Cong. Claudine Bautista-Lim and Mayor Dinko Bautista and Gov. Claude Bautista. We also have teams in Luzon, Cagayan Valley, Bicol and El Nido, Palawan.
One of the major innovations in the new league is the composition of players per team.
"While we're open to everyone, we want to maintain a balance to keep all the teams competitive. This conference, we will allow only five ex-PBA players and one Fil-foreigner per team. And if you're a Visayas team, you are required to have local players from the province you represent plus homegrown regional players."
"If college players pwede din as long as they will be allowed by their mother teams during off-season."
Chan said the PSL will work closely with the Games and Amusements Board (GAB), headed by Chairman Abraham "Baham" Mitra to ensure the success of the league.
"Nagpapasalamat kami kay GAB Chairman Baham Mitra for his guidance in forming this new professiinal league He is very accomodating to us. We're just preparing all the required documents for submission to GAB. All our players and even referees will apply for licenses," explained Chan.
Asked about the possibility of allowing fans to watch the games, Chan said it all depends on the IATF, GAB and the LGUs.
"Kung ano sabihin sa atin ng IATF at GAB, yun ang susundin natin. We will follow their health and safety protocols not only for the players and officials but the fans as well. Syempre gusto natin may mga na nanonood para mas maging exciting ang mga games," explained Chan.
"Of course, we will still continue to implement our strict protocols sa venue. Una sa mga players at teams officials na dapat fully vaccinated. The same sa staff at personnel ng liga. Pat kapag nagkaroon na tayo ng audience, lahat kailangang fully vaccinated."
Pingris, one of the "40 Greatest PBA Players" who retired only last year, welcomed the challenge of becoming the first commissioner of the newest professional league and vowed to give his best.
Pingris, nicknamed "Pinoy Sakuragi" during his playing years in the PBA from 2002-2019, said his long experience as a player in the pro league and the national team should make it easier for him to adjust to his new role.