MANILA – The Professional Chess Association of the Philippines (PCAP) is now set for its All-Star Game as the league formally unveiled its entire All-Star rosters.
As announced on Thursday, six players from Pasig and five from Camarines, which would capture the Southern Division title, will be part of the league's first All-Star teams as they were chosen through the fan votes.
Meanwhile, the Laguna Heroes' Big 3 of Grandmasters (GM) Banjo Barcenilla and John Paul Gomez and FIDE Master (FM) AJ Literatus, who helped the team beat the Soaring Eagles for the inaugural PCAP national championship, were also named to the All-Star Game through the second round of voting that involved all the woodpushers and coaches.
The King Pirates GM's, Darwin Laylo and Roland Salvador, topped the votes for the top-rated players to lead the cast for the North All-Stars.
Women's FM Sherily Cua, on the other hand, won the vote in the female player category.
National Master Rudy Ibanez was number one in the senior player category, while Cromwell Sabado and Ferdinand Palermo got the nod in the homegrown players group.
The only non-Pasig player in the "First 7" is no less than top overall pick Eugene Torre.
The first Asian grandmaster, who was recently inducted to the Chess Hall of Fame, will be making his PCAP debut in the All-Star Game as he sat out the entire All-Filipino Conference to take the role of head coach for Rizal.
Meanwhile, Camarines' Top 2, GM Mark Paragua and Ellan Asuela, will lead the way for the South All-Stars as they finished 1-3 in the all-star balloting.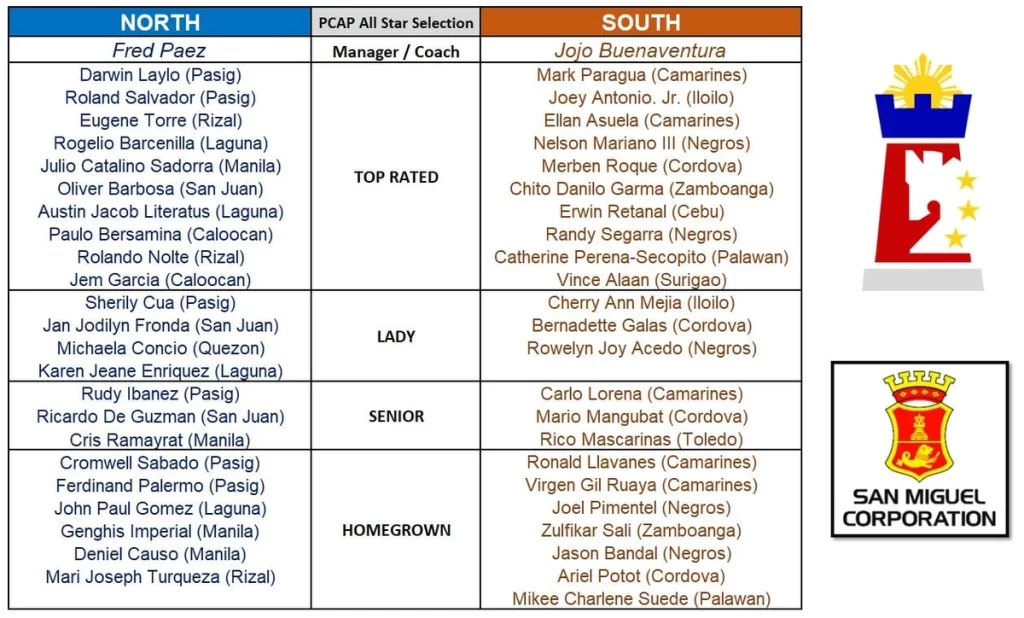 For the senior side, NM Carlo Lorena got the nod, while Ronald Llavanes and Virgen Gil Ruaya won the votes for the homegrown players.
Only Iloilo's GM Joey Antonio and WFM Cherry Mejia got the other two fan vote nods.
Also given All-Star nods through the player voting are GM's Ino Sadorra and Oliver Barbosa and International Masters Paulo Bersamina, Rolando Nolte, and Jem Garcia for the North's top-rated players.
Joining Cua for the female players are WIM Jodi Fronda, Michaela Concio, and WNM Karen Enriquez.
The other senior players joining the North All-Stars are IM's Ricky De Guzman and Cris Ramayrat.
Completing the North All-Stars are homegrowns FM Deniel Causo, Genghis Imperial, and Mari Turqueza.
On the other hand, joining the South among the top rated players are IM Chito Garma, FM's Nelson Mariano III, Randy Segarra, and Vince Alaan, NM's Merben Roque and Erwin Retanal, and WIM Catherine Secopito.
Joining Mejia in the female side are WIM Badette Galas and AGM Kajoy Acedo.
Also part of the South seniors crew are IM Rico Mascarinas and NM Mario Mangubat.
Completing the South All-Stars are homegrowns IM Joel Pimentel, NM Zulfikar Sali, WIM Mikee Suede, Jason Bandal, and Ariel Potot.
The PCAP All-Star Game is set on May 2. (PNA)