MILWAUKEE — The Bucks were forced to play against the Phoenix Suns on Sunday without their star player Giannis Antetokounmpo. He sustained a bruised right quadricep after knocking knees with a Heat player two nights before.
Giannis' absence did not stop them.
Jrue Holiday exploded for 35 points on 13-22 from the field. Brook Lopez backed him up with 22 points and 13 rebounds, and a clutch tie-breaking layup late in the fourth quarter. Khris Middleton added 11 points and 10 rebounds.
The Suns' Big Three also played well. Devin Booker scored 24 points, Deandre Ayton notched 22 points and 11 rebounds, and Chris Paul added 18 points and seven assists. The game was neck and neck all the way through.
Following a timeout, Middleton assisted Lopez for a tie-breaking layup bringing the score to 102-100 with 24.8 seconds left.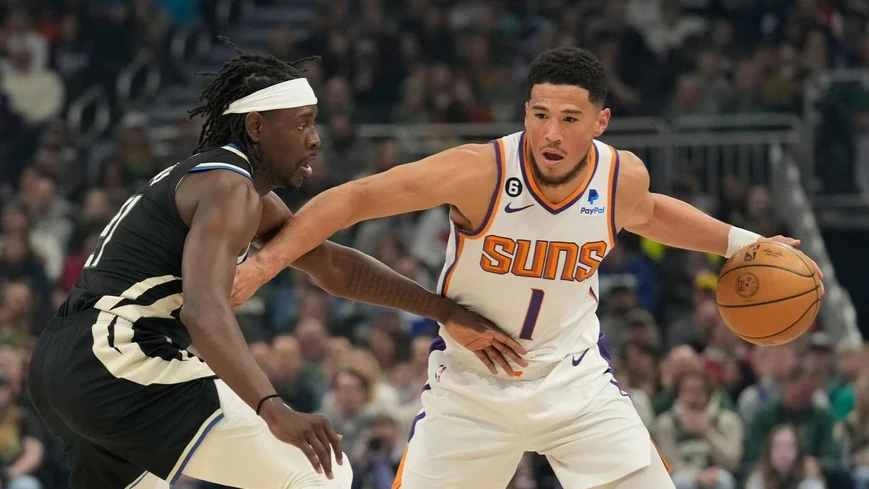 The Suns went to Booker on the other side but Holiday stripped him and Lopez scooped up the loose ball.
Booker later remarked that there was contact on the play but recognized that "it's playoff-type basketball and refs are going to let things go."
Joe Ingles hit the first of a pair of free throws to increase the Bucks lead to 103-100 with 11.3 seconds left. The second shot missed and went out of bounds. It was initially ruled Suns ball but Bucks coach Mike Budenholzer challenged the call and replays found that the ball was actually knocked out of bounds by Suns player Terrence Ross. Holiday was fouled and split the pair of free throws to bring the lead to 104-100 with 10 seconds left.
On the other end, Booker was fouled on a 3-pointer with only 0.9 seconds left. He missed the first, sinked the second, and intentionally missed the third, but Lopez snatched the rebound to solidify the win, 104-101.
This barn burner is the Bucks' 14th consecutive win.